Este fin de semana fue "falso" -citando a una amiga, que a veces tiene viernes falsos, o sea, que trabaja al siguiente día y realmente no se siente como un viernes. Porque conceptualmente, "viernes" implica en su significado "hoy me puedo desvelar porque mañana descanso". Así que mi fin de semana fue de a mentiritas, porque pues… no existió.
En fin.
Hoy lunes las cosas que sucedieron en mi ausencia se me revelan. Este es el único lunes que me gusta: el lunes en que no hay trabajo.
Primero que nada, acabo de enterarme de que hace casi dos semanas, OiNK dejó de existir. ¿Qué era OiNK? Pues un site gratuito, al que podías integrarte si algún miembro te enviaba invitación. Básicamente, ahí encontrabas cualquier disco habido y por haber, en una calidad nunca menor a 190 kbps. Y como me da flojerita explicar, cito:
If you're not familiar with Oink, here's a quick summary: Oink was was a free members-only site – to join it you had to be invited by a member. Members had access to an unprecedented community-driven database of music. Every album you could ever imagine was just one click away. Oink's extremely strict quality standards ensured that everything on the site was at pristine quality – 192kbps MP3 was their bare minimum, and they championed much higher quality MP3s as well as FLAC lossless downloads. They encouraged logs to verify that the music had been ripped from the CD without any errors. Transcodes – files encoded from other encoded files, resulting in lower quality – were strictly forbidden. You were always guaranteed higher quality music than iTunes or any other legal MP3 store. Oink's strict download/share ratio ensured that every album in their vast database was always well-seeded, resulting in downloads faster than anywhere else on the internet. A 100mb album would download in mere seconds on even an average broadband connection. Oink was known for getting pre-release albums before anyone else on the internet, often months before they hit retail – but they also had an extensive catalogue of music dating back decades, fueled by music lovers who took pride in uploading rare gems from their collection that other users were seeking out. If there was an album you couldn't find on Oink, you only had to post a request for it, and wait for someone who had it to fill your request. Even if the request was extremely rare, Oink's vast network of hundreds of thousands of music-lovers eager to contribute to the site usually ensured you wouldn't have to wait long.
Y dejó de existir, por las mismas razones que todo programa que facilita el intercambio musical. Lo cual es una pena, porque en efecto era el mejor y más eficiente, además gratuito. No lo creía hasta que empecé a usarlo, y descubrí que el soulseek (al que tendré que volver de nuevo) no es NADA comparado con lo que era OiNK. Al respecto, hay un artículo interesantísimo, del cual extraje la cita anterior, donde habla de la guerra disqueras vs. descargas gratuitas. Puedo apoyar prácticamente al 100% mi opinión en este artículo. Ahora la pregunta es, ¿quién podrá reemplazar a OiNk?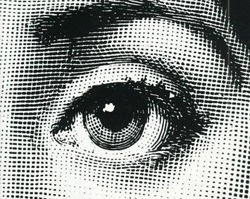 En otro tema, ayer soñé con un cenicero sucio, en cuyo fondo estaba esta imagen de Fornasetti. Y ya, eso era todo. Alguien apagaba su cigarro, sobre esta imagen llena de cenizas negras, viejas y húmedas, desde donde este ojo miraba. Cuando desperté, pensé que en algún momento de mi vida debo tener un cenicero así. Aunque yo no lo use, de seguro tendré distinguidos invitados que apagarán sus cigarros sobre un ojo. Qué loco.
Y finalmente, tuve la oportunidad de ver el espectáculo emblemático del Forum: la fragua del mundo. O algo así. Desafortunadamente estaba de pie así como en diagonal al escenario (el horno 3), por lo que no pude leer los textos que se proyectaban en la pantalla. Y pues, lo que percibimos entonces fue una historia disociada, extraña, débil y un tanto… ¿eehh?. Prometo volver a ir a ver el show, pero ahora sí pondré atención en las letritas pa' entenderle.